Operation "AVALANCHE"
Assault Landings at Salerno
D-Day, 9th September 1943
In Operation Avalanche, the task was "to seize the port of Naples and to secure the airfields in the Naples area with a view to preparing a firm base for further operations." [1] The Gulf of Salerno, south of Naples was chosen as the landing place for the assault.
In Sicily two separate armies had been involved; the British 8th Army and the U.S. 7th Army. For Operation Avalanche there was to be a combining of British and U.S. forces in a single army. That army was the U.S. 5th Army, consisting of the U.S. 6th Corps and the British 10th Corps.
A quick build up of tactical air support operating from the beach-head was important to the operation. "It was planned to fly in not later than D+6 a total of 12 squadrons of American Mustangs, Spitfires and Kittyhawks, eight squadrons of R.A.F. Spitfires, half a squadron of R.A.F. Beaufighter night-fighters and elements of one American Mustang and one R.A.F. Spitfire Tac. R squadron. When established ashore this force would come under the control of U.S. 64th Fighter Wing (U.S. XII A.S.C.)." [2]
The deployment of R.A.F. beach units to support Operation Avalanche is shown in the diagram below.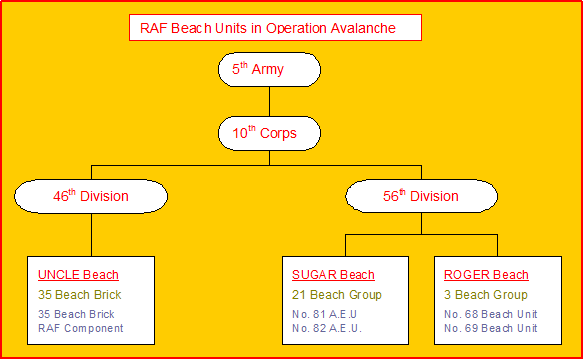 ---
"Three of the beach groups used in Operation Avalanche had R.A.F. components. These were No. 3 Beach Group with Nos. 68 and 69 R.A.F. Beach Units, No. 21 Beach Group with Nos. 81 and 82 R.A.F. Beach Units and No. 35 Beach Group with No. 35 R.A.F. Component. The first two beach units were founded on the U.K. establishment with a mechanical transport light repair section (M.T.L.R.S.) forming approximately half the personnel, the second two beach units were based on the North African establishment whilst the No. 35 Component had a Middle East establishment. All three had additional M.T. added to them for the operation and this undoubtedly increased their efficiency. The allocation of one Jeep and one 3-ton vehicle to each beach unit and one Jeep for the use of the squadron leader at base sub-area headquarters was to prove most satisfactory."

from Air Publication 3397 entitled 'Maintenance' produced by the Air Ministry in 1954
---
R.A.F. Beach Units involved in Operation Avalanche
---
Wing Commander George, the Senior Movements Staff Officer, found himself a place on an L.C.I. so that he could land early to meet the R.A.F. units coming ashore. He landed at 5 a.m., only half an hour after the first of the assault troops.
Apart from some Beach Balloon personnel who were early arrivals, the first R.A.F. units he met were Nos. 68 and 69 Beach Units, joined under the command of Squadron Leader Dickie Denvil, disembarking from an L.S.T. at around 1 p.m. He borrowed a jeep from them (until his own arrived) so that he could begin touring round, visiting the R.A.F. units and doing his best to help everything go smoothly.
On the first day the beaches and Salerno Bay were shelled almost without pause and shelling continued throughout the first week during which time the Allied forces were contained within a small area, with the dumps of the beach maintenance area intermingled with artillery batteries, camps, headquarters and hospitals of the Divisions they were supplying.
The airfield at Montecorvino that the Allies had planned to capture on D-Day or D+1 was not useable because it was still under fire from the nearby enemy, but two landing strips were constructed so that fighter squadrons could begin operating from the beach-head. The newly constructed landing grounds were named after the rivers near which they were located: Tusciano and Asa. The Tusciano airstrip, near Roger beach, was in operation on 12th September (D+3). The specialist personnel and materials essential to support fighter operations from these landing strips were ready and waiting, their arrival and deployment having been facilitated by the R.A.F. beach units.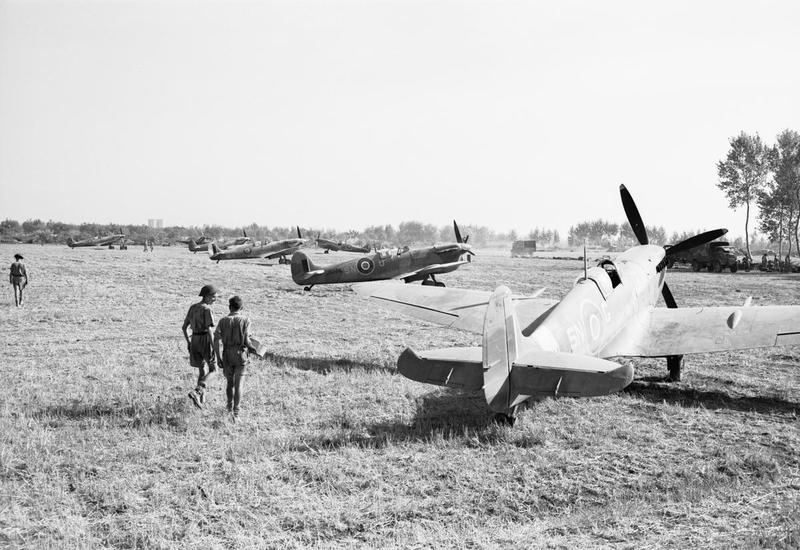 Daytime attacks by the Luftwaffe began to diminish and then ceased altogether, although night attacks continued. After the Allied bombing and capture of Battipaglia, the shelling also diminished and the Germans withdrew from the Salerno plain. The R.A.F. beach units were then able to settle down to a more routine existence until their work on the beaches was finished.
In Sicily the difficulties of the R.A.F. beach units had been largely due to a lack of equipment that made their job harder and their life more uncomfortable. At Salerno the units were better equipped and more experienced. Their difficulties, directly or indirectly, arose more from stiff resistance by the enemy. While they suffered in adversity, with casualties occurring among beach unit personnel, they rose above it and some were awarded honours for their efforts, including Wing Commander George.
---
[1] Molony, C. J. C. "The Mediterranean and Middle East Vol. 5, The Campaign in Sicily 1943 and the Campaign in Italy 3rd September 1943 to 31st March 1944", 1973, p273
[2] ibid
---