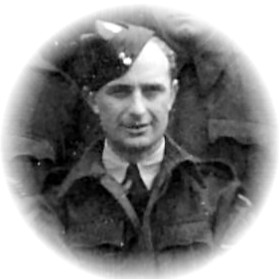 Henry Charles Fry was born 10th September 1911. He enlisted in the Royal Air Force as an Equipment Assistant on 18th May 1939 (Service No. 644472) and initially served at the Supply Depot, Uxbridge and then at No.240 Sqn, Calshot.
From 15th November 1941 to 31st May 1943 he served with No.14 Embarkation Unit, Stranraer, and then joined the newly formed No. 70 R.A.F. Beach Unit at Ayr. R.A.F. beach units in the U.K. were reorganised at the end of August 1943 and No. 70 R.A.F Beach Unit became No. 101 Beach Section of No. 1 R.A.F. Beach Unit. Fry was promoted to Acting Flight Sergeant (seniority 1st November 1943) and was assigned to the Landing Section of 101 Beach Section.
In 1944, No. 1 Beach Unit became part of the 2nd Tactical Air Force and as part of the Beach Unit training plan for the Landing Sections, Fry spent a short spell attached to No.3 Embarkation Unit at Liverpool in February 1944. No. 101 Beach Section was renamed No. 101 Beach Flight when No. 1 R.A.F. Beach Unit was renamed No. 1 R.A.F. Beach Squadron shortly before the invasion of Normandy.
The Operations Record Book of No. 1 R.A.F. Beach Squadron records that the Landing Section of 101 Beach Flight, consisting of a Landing Officer and eight men, touched down at H plus 210 minutes on Queen Red beach (in the SWORD assault area) on D-Day 6th June 1944. Acting Flight Sergeant H. C. Fry was one of those eight men. The record states that, "The Landing Section under F/Lt G. McBride RAAF was fully occupied in assisting to restore order on the beaches and assisting the Army Beach Companies in clearing the beaches. F/Lt G. McBride and No. 644472 A/F/Sgt Fry H.C. being examples to all."
Glen McBride recalls an incident involving H. C. Fry in his memoirs. [1] On D-Day, with the C.O. due to land with Squadron H.Q. at around H + 11½, McBride and his Landing Section Flight Sergeant (Fry) were keeping an eye on the beach. They spotted some craft coming in,
"and the Flight Sergeant walked out across the wet sand to meet them – the tide was out about a quarter of a mile (.4km) at this time. Suddenly we heard enemy fighters and the rat-tat-tat of machine guns, and German fighters swept over. The Flight Sergeant was right in their path! I saw him look each way, but there was nowhere to run for shelter, so he did the best thing he could – he went flat on his face in about four inches (10cm) of water."
"Bullets splattered the water and sand all round him, and I thought he must be killed. But before the last plane had passed directly over his head, he was sitting up, shaking both fists at the planes and yelling his thoroughly obscene opinion of the Jerries. He hadn't been hit, but he'd swallowed some sea water, his dignity had been considerably shaken, and he was really mad. The aircraft had for some reason neglected the perfect target presented by the three approaching beach landing craft and had concentrated their fire on the solitary person between the dry beach and the sea."
H. C. Fry was mentioned in despatches and awarded the Croix de Guerre for the leadership and gallantry he showed whilst under enemy fire during the landings on 6th June 1944 and in the days that followed.
No. 1 Beach Squadron was, in due course, disbanded and Fry joined No.89 Embarkation Unit in France on 20th August 1944. He remained with this unit after the end of the War. On 1st December 1946, he relinquished his temporary Flight Sergeant rank to become a substantive Sergeant again.
From 89 E.U., Fry was posted to No.139 Wing on 20th March 1947. He spent 6 months in Mombasa in 1948 and undertook another 6 month tour (this time to Aden) in 1950. He was posted to the Supply Trade training school, R.A.F. Hereford in 1951 where he instructed young Airmen joining the R.A.F. in the Equipment Branch.[2]
He was posted to No.16 M.U., R.A.F. Stafford in November 1956 and was then posted to No.32 M.U., R.A.F. St. Athan in August 1957. Promoted to Warrant Officer on 1st April 1964, he stayed at this camp until he retired from the R.A.F. on 10th September 1966.
In addition to being mentioned in despatches (gazetted 1st January 1945) and awarded the Croix de Guerre, H.C. Fry was also awarded an Air Officers Commanding in Chief H.Q. Maintenance Command Commendation on 1st Jan 1964.
---
Thanks to Charles James who got in touch with information about Henry Fry. He recalled, "I joined the R.A.F. in 1954 as an R.A.F. Admin Apprentice (Supply). My instructor was Sergeant Fry. He was quite a character and highly thought of in R.A.F. Supply circles."
Thanks also to Wing Commander Steve Chappell for additional research on Henry Fry.
[1] "D-Day on Queen's Beach Red, An Australian's War from the Burma Road Retreat to the Normandy Beaches" by Glen McBride, edited and published by Prof. G McBride Jr., Australia 1994
[2] The Equipment Branch was renamed Supply Branch in 1970 and became the Logistics Branch in 2009
---