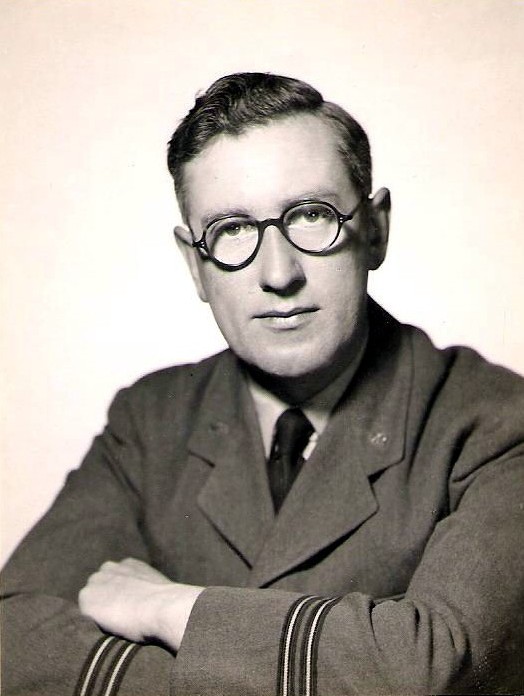 In 1941 John Richard Alcock, already serving as a Corporal in the R.A.F., was granted a commission for the duration of hostilities. He became an officer in the Administrative and Special Duties Branch.
After joining No. 2 Beach Unit in 1943 he was made Acting Flight Lieutenant and became the Landing Officer of No. 103 Beach Section.
John was from Liverpool and so was his wife, Joan. They had a new baby daughter and John was writing regularly to Joan who, with the new baby, was living with her parents in Liverpool.
Here are some extracts from letters he wrote after landing in Normandy with his (renamed) unit, 103 Beach Flight of No. 2 Beach Squadron.The first extract, from a letter dated 24th June is about the landing on D-Day, 6th June. The remaining extracts follow in date order.
---
Letters from Normandy 1944
---
My dearest Joan,
June 24: I was not seasick crossing the channel! When I should have been sick I was too darned frightened to think about it!
The Beach Squadrons were the first complete units to land. And all on "D" day. And in the first wave. We almost waited for the Commandos!!
I kept one of your Father's cigars for the trip. I made my gesture by smoking it as I came ashore. Rather stupid because I wasn't very interested in its aroma at the time! Still it looked good and was rather a change from the monocles affected by the Commandos. Strange what little things pep the old morale. To my astonishment I wasn't as frightened as I expected.
---
June 10:The prisoners are passing through. Some are very young indeed – almost schoolboys.
The size of an operation like this takes one's breath away. The sea has a hard job to find a space between the ships in which to flow! The sky is dotted with planes and balloons. The traffic is never ending and clouds of dust turn day into night. Things seem to be going well.
June 12: Today we got our first English papers. For the first time we know what's happening and where. The general feeling here is that the newspapers understated the difficulty of penetrating the West Wall. It was a grim and bloody business and Shakespeare's line "fill up the wall with our English dead" came true. However the job was done and I can't find words to express my admiration for the men who did it, particularly the Canadians who are without fear.
June 13: Last night I was very happy. I gave an American captain of a landing ship a lift in my Jeep. In return I went aboard his ship and had a wonderful hot shower. A real American one which had such a pressure that I was nearly forced thro the deck! Then a complete change of clothing and cups of freshly percolated coffee and hot buttered toast. I wallowed in the luxury of it all.
June 14: Today I was on the beach watching the unloading of RAF gear. Looking through my binoculars at the ship I was astonished to see two WAAFs in battledress! When I eventually got aboard I found they were Princess Mary Nursing Sisters of the RAF. Both young and both pretty!!! While the boat was unloading I took them on a conducted tour, and finally to their clearing point. Great excitement among the Army and Navy officers! Unfortunately on the way, in the dark, a spot of unpleasantness developed and a regular firework display began in the sky. The noise was terrific and I hastily put the girls on the ground by the Jeep. I asked one of them if she was scared (I was a bit!) and she replied "Good heavens, no, we volunteered for this".
June 16: I got to bed at 1 a.m. but not before I'd had one hour of frenzied work on the beach. In the middle of it they released those awful smoke bombs to cover the area. I was choking & spluttering for hours afterwards. To add to the jollity there was a terrific display of ack ack which made the earth tremble. I've got this ack-ack taped. You watch its focal point and if it starts moving towards you it means the plane is heading your way. Then I picks up my feet and runs like blazes to the friendly shelter of a landing craft or a dugout!!
I'm thinking of going into business "Ye Invasive Souvenir Shoppe". The crews off the ships mooch around digging into the piles of wreckage looking for souvenirs. The Americans are very bad – I saw one trade 50 first rate cigars for a very battered Jerry helmet. I have to mount a night guard to make sure nobody pinches my gear. One officer had his Jeep stolen three days ago and it has not been recovered!
June 19: Now I suppose I must tell you how I am living! The sympathy which has been poured on me will evaporate!
During the general confusion and carnage of our arrival I snooped around looking for a likely spot to dig our holes. My Sgt reported a shallow trench shelving downwards. Very cautiously I crawled down and found myself at the entrance to a small concrete bunkhouse. The door was shattered and a large mirror in pieces on the floor. In the light of my torch I saw nine bunks (three in a tier) and plenty of overturned stools & a table. The place had been vacated rather rapidly! The place is very dark, and a petrol lamp provides a white light all day long. I spent a day collecting the German's correspondence together for despatch to the right quarters. Their home life photographs were very saddening and I hope, if they are P.O.W. that they get them back.
June 22: I spent the morning on the job charging up and down the beach in the Jeep. The spectacle I still find most interesting and I'm not a little awed by the scale of planning in an operation like this. It's rather like contemplating space or eternity! The Yanks are very hospitable and my chaps can usually get a loaf of bread or a tin of spam to eke out the monotonous stewed steak and vegetables. We have a framed photograph of Adolf. Think I will forge his signature on it and trade it in for nothing less than a whole cow
A deep low hum from the seaward direction turns one's eyes to the sky. Packs of heavy bombers can be seen high up crawling across the blueness. The sun picks them out in silver spots and we begin to count as they pass us going inland. After the first hundred we lose interest in the count but feel cheered by the sight of such air power. They pass! A few minutes later a terrific crack from the sea tells of the naval guns opening another shelling inland. The earth shudders and is silent. Crack follows crack and each time the ground and air trembles. After a time it stops and only the columns of ant like vehicles raising little clouds of dust on the roads show the great activity that is going on.
July 3: The first part of this letter is going to hurt you a lot more than it hurts me!! I have just finished an excellent tea! A simple repast but so good. Just imagine my meal! White bread thickly spread with creamy butter. The bread a gift from H.M. Royal Navy. The butter freshly produced from the farms of La Belle France. Thick creamy butter with a taste but dimly remembered, but what a taste! But wait – what else is upon the table? Four kinds of cheese, surely not? Yes – it's quite true and real. Four kinds of cheese all lined up and waiting to serve a comfort-crazed man. I feel good. Real bread, real butter and real cheese.
July 4: The Jeep almost burst a tyre with pride today. General Montgomery's car parked itself alongside! I had the pleasure of throwing up a real smacking RAF salute to the great man! A great thrill. He is smaller than I expected but what a piercing eye he has even when he smiles at you. Its not the first time I've seen him but, before, it was at a distance.
July 14: Today is the 14th of July and La France is almost herself. The populace has done itself proud. The tricolour is flying on every other house and everybody is in Sunday best. The church bells have been clashing and the shops shut. The curé nearly brought down the remnants of his belfry with his inspired bunting! There have been several parades with a detachment of R.A.F. in one of them. They found it quite exciting as the Maire was in the parade. Some of the locals took a dim view of this and hurled Gallic abuse at him for being a collaborator! The poor man was most unhappy – being a Maire during the German occupation must be an invidious job!
July 18: Tonight I went to the local village parish hall for a concert given by an Army unit. My first amusement. The show was very good. I was the only officer there and the comedian (who turned out to be a lieut) had a great time at my expense!! Some very small and dirty French children infiltrated the audience and during a turn by the comedian who, dressed in bright coloured rags and a moth eaten fur coat, was giving a display of army drill, convulsed the house by shouting drill orders in German!! The comedian played up to them and we had five minutes of terrific hilarity. The children finished up on the stage eating chocolate and having a whale of a time.
July 19: Am I haggard! What a night!! Hitler's new secret weapon has appeared – FLEAS!! This is the last straw. I've endured all the other forms of insect life but I never thought I'd be reduced to fighting fleas. I've got the place in an uproar today and the biggest flea program of all time is in full blast. All the forces of chemical warfare are put to work. It smells to high heaven. Further report from your correspondent, at the front, tomorrow.
July 20: The sounds of battle are very faint these past few days. The great struggle is slowly gaining us ground. The streams of prisoners are very heartening but the wounded make me very pensive. I've had a pretty easy time all things considered. A few hours of sheer hell, a few days of danger, and now the odd risk during raids. Life could be a great deal worse.
July 22: Today, I've been inland to collect rations. The journey was chiefly remarkable for the mud, the like of which I've never known before. It was feet deep! Even the poor Jeep spun all four wheels in a desperate attempt to secure hold. When I arrived I stepped into mud up to my shins!! Heaven knows how I shall get my boots clean again
August 8: Mother's letter was full of news. I had asked for my brother Bernard's address and she sent it with the letters, B.L.A. at the bottom! I nearly had heart failure! She didn't know what it meant because he'd been home a few days before. As a result I've been scouring the countryside tonight in case he is here. He is or may be soon.
August 9: I paid all my calls and then started looking for Bernard. Eventually I located him several miles beyond the local town. Our meeting was of the usual casual type!! He was looking very well indeed and in good spirits. His Unit is very obviously a happy one without any Army discipline (we have a rude word for it!) Found in most Units. He gave me all the latest news of home and everything seemed to be well.
August 18: The countryside is very pleasant just now. The harvest is being brought in at a great rate. Wide tank roads have been cut through the fields and across the roads but always in a straight line towards the front. As I drive along them I can see the balloons, by the thousand, hanging like a fantastic bead curtain, high in the blue-white sky along the coast. Over me and around me dozens of aeroplanes weave and dodge about on patrol. Little specks, big specks, fat specks, fast specks, slow specks. And always a deep throbbing hum for hours on end. Where the airfields are they can be seen dropping to earth like wasps homing to the nest. From out of the North come the big bombers. A dozen or more spread across the sky, followed by another dozen, and another and another. Soon there is an armada flying overhead. The sky is alive and you can't count them. They come in an unending migration. Perhaps you count up to 800 roughly and then give up but the roar goes on. As far as you can see the sky is thick with them. Thousands of planes all going the same way.
August 19: I was on the road early today and went a considerable distance inland. Our Units are fanning out as the territory captured expands. Small clumps of white crosses, five or six at a time, stand in the wheatfields close by the road. Hans Schmidt lies beside John Smith and their crosses and flowers are the same. Every grave has its flowers placed by comrades or French – mostly French. The French, tend the graves. In the fields the harvesting goes on.
August 26: Things are moving at a terrific rate. I am packing my own things now. Looks as though I shall be seeing you soon – or at least phoning.
The French are very happy about the fall of Paris and the tricolour is flying from all the houses. I think they are beginning to appreciate that we are in earnest.
Yrs very happy
---
On 26th August John Alcock returned to the U.K. on disbandment of No. 2 R.A.F. Beach Squadron. For his service in Normandy, Acting Flight Lieutenant J. R. Alcock (100197) R.A.F.V.R. was listed as having been Mentioned in Despatches (Air Ministry announcement dated 1st January 1945). He was later stationed in Paris, from January to May 1945 and, with the rank of Squadron Leader he served in Cairo from July to December 1945. He continued to write daily to his wife Joan, another baby followed and his daughters still keep over 350 letters that he wrote. Many thanks to John Alcock's daughters for sharing these extracts from the letters and providing the photograph of their father.
---