No. 34 Beach Brick, RAF Component
The R.A.F. Component of 34 Beach Brick was formed on 1st June 1943 at Kabrit in Egypt and was attached to 1st Battalion Welch Regiment which was the infantry battalion forming the core of No. 34 Beach Brick. The Commanding Officer of the R.A.F. Component was Squadron Leader R Willoughby and the unit establishment was 5 Officers and 35 Other Ranks.
S/Ldr Willoughby was an Equipment officer and Explosives specialist from No. 231 Wing. Among the other officers, Flight Lieutenant W C Penney was an officer in the Administration and Special Duties branch from No. 3 Middle East Training School and Flight Lieutenant G M Southcomb was an Equipment officer posted from No. 37 Air Stores Park. The two other Officers and all the Other Ranks came from No. 121 Maintenance Unit.
The unit was immediately involved in Exercise "DUCHESS", making a practice landing from L.C.A.s at Sinai at 06:00 hours on 3rd June. They only had the rest of June to prepare for Operation "HUSKY", the invasion of Sicily, and on 30th June the unit sailed from Port Tewfick to Port Said.
From 1st July to 4th July they waited at Port Said aboard H.M.T.s "WINCHESTER CASTLE", "ORONTES", "RHYS" and "DEVONSHIRE" and then they sailed from Port Said on 5th July 1943.
On board the troopships, as they sailed to Sicily, the men were briefed on the various tasks to be performed after they landed. They arrived off the coast of Sicily near Avola, in the early hours of 10th July, D-Day for Operation 'HUSKY'.
The R.A.F. Component of 34 Beach Brick successfully made their landings with the 50th Division (part of the 8th Army's 13 Corps) and the various sections of the R.A.F. Component were soon at their respective tasks on the beach identified as Beach 47, JIG Sector, ACID SOUTH Area.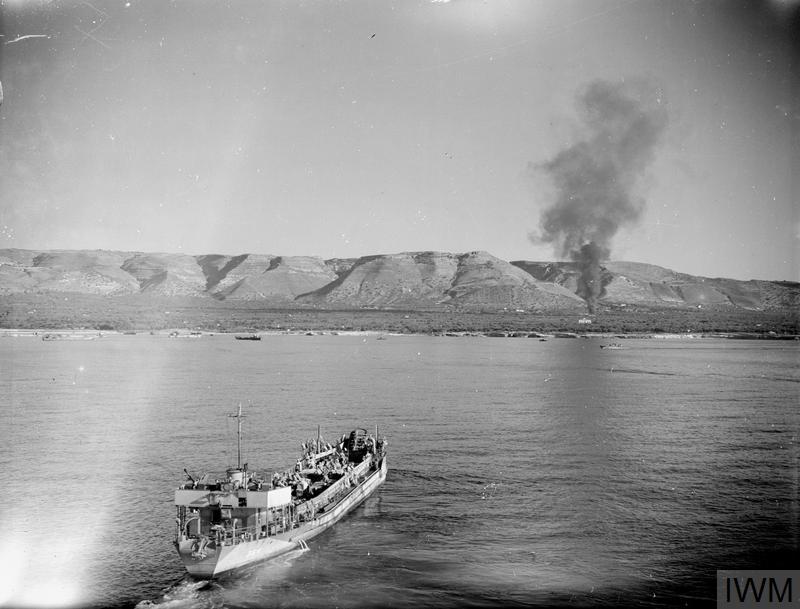 On 11th July ( D+1), while his unit continued to work on the beaches at Avola, Squadron Leader Willoughby and one corporal went to Syracuse on the instructions of Group Captain Bennett (the senior R.A.F. officer in charge) to set up a small Headquarters and also carry out the duties of an Embarkation Unit pending the arrival of No. 2 R.A.F. Embarkation Unit (Overseas).
Four days later, on the instructions of Wing Commander George (S.M.S.O.), two officers and and fourteen Other Ranks were attached to No. 2 R.A.F. Embarkation Unit (Overseas) in Syracuse, to augment the small staff now operating under Flight Lieutenant Hands of that Unit. The remaining fifteen Other Ranks of No. 34 Beach Brick R.A.F. Component under F/Lt Morley remained on the beaches, supervising the unloading of R.A.F. Stores, P.O.L. and Ammunition and the disembarkation of R.A.F. personnel.
LAC Bell, one of the party working on the beaches, was admitted to the Regimental Aid post of No. 34 Beach Brick on 17th July. He remained there for four days before being discharged.
On the 18th July the beaches were closed down and the R.A.F. Component personnel working there under F/Lt Morley were attached to No. 121 Maintenance Unit to form No. 2 Park. The rest of the R.A.F. Component continued with Embarkation duties at Syracuse till the end of July and on into August.
Corporal Connell was admitted to the Casualty Clearing Station at Priolo on 3rd August and AC1 Mitchell was in 66th General Hospital from 10th to 13th August.
F/Lt Morley was posted back to No. 121 Maintenance Unit along with ten Other Ranks (less than three months after leaving 121 M.U. to join the Beach Brick) and various other changes in personnel took place during the month.
On 21st August the unit left Syracuse to re-locate at Buccheri and rejoin No. 34 Beach Brick. They were to prepare for Operation "BAYTOWN", the landings on the toe of Italy. 34 Beach Brick was assigned to work with the 1st Canadian Division (part of 13 Corps) for the assault across the Straits of Messina.
The unit now had signals personnel added. F/O D. M. Clark had joined the unit from No. 3 A.L.G. on 9th August "for Cypher duties" and on 28th August four more signals personnel arrived on attachment pending posting. These were a Code & Cypher Sergeant, plus a Corporal and two LACs who were Wireless Operators.
The unit received a Bedford 3 ton tender in addition to the Jeep already received. F/Lt Penney spent four days being treated at 5th Canadian Field Ambulance.
On 2nd September 34 Beach Brick R.A.F. Component left Buccheri for Catania where they embarked on L.C.I.s 52 and 53 and sailed out of Catania at midnight. At 06:30 the next morning (D-Day for Operation 'BAYTOWN') they landed with the 3rd Canadian Infantry Brigade on the FOX beach sector just north of Reggio di Calabria (between the mouth of the Fiumara dell'Annunziata and the mouth of the Torrente Torbido further north). The next day 34 Beach Brick R.A.F. Component moved into Reggio di Calabria.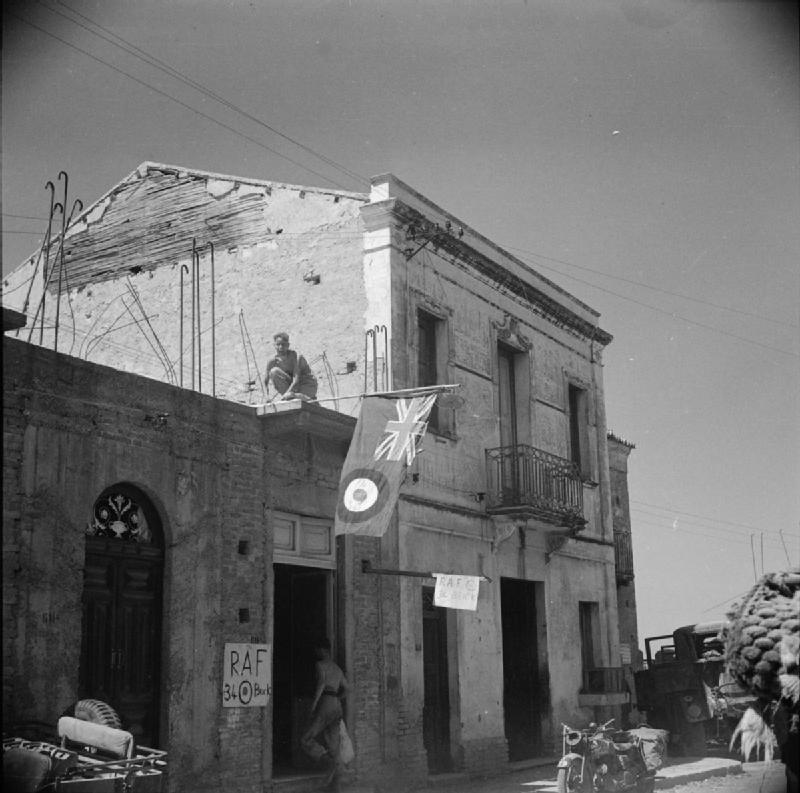 On 6th September a small Embarkation Unit was formed under F/Lt Southcomb for work in the Port of Reggio and on 14th September, F/O Messenger and three Other Ranks were attached to No. 32 Brick temporarily, to take over dumps on the beaches.
34 Beach Brick R.A.F. Component carried out Embarkation duties in Reggio di Calbria throughout September, October and into November 1943. A number of personnel were hospitalised for varying lengths of time during this period, including F/Lt Penney, who had a second spell of sickness, spending six days in No. 21 M.F.H., R.A.F. at the start of October and later, the C.O., S/Ldr Willoughby who was in hospital for 21 days, F/Lt Penney assuming command in his absence.
On 19th November, Wing Commander George (Movements), Headquarters Tactical Air Force visited the Unit and on 21st November the R.A.F. Component of No. 34 Beach Brick was disbanded. Members of the unit were posted variously to Nos. 61 and 67 Embarkation Units, H.Q. T.A. F. and No. 2 Beach Group, with some already having joined No. 82 Brick. The remainder, sixteen in all, were attached to No. 38 P.T.C. "for disposal by Headquarters D.A.F."
Arrangements were made with the Town Major Reggio to route onwards the three Other Ranks who were still in hospital.
---
Main source used for this page:
Operations Record Book of No. 34 Beach Brick (R.A.F. Component) – found in, 'Air Ministry and Ministry of Defence: Operations Record Books, Miscellaneous Units' AIR 29/438 at The National Archives.
---