No. 35 Beach Brick, R.A.F. Component
One of a number of Beach Bricks formed in the Middle East, No. 35 Beach Brick, like the others, had an R.A.F. Component of 5 Officers and 35 Other Ranks. The Commanding Officer of the R.A.F. Component was Squadron Leader J.E.T. Murphy.
The infantry battalion in No. 35 Beach Brick was, to begin with, a Territorial Battalion of the Highland Light Infantry. However, after a while, this battalion was taken away to reinforce the 51st Highland Division. This was a bit of a blow but fortunately, it was by that time fairly certain that No. 35 Beach Brick would not be required for the initial assault in the next operation that was planned (Operation "HUSKY"). A replacement battalion was nevertheless, soon found for No. 35 Beach Brick.[1]
18th Battalion, The Durham Light Infantry was now assigned to form the core of No. 35 Beach Brick. This was a new battalion of the D.L.I. formed at the Northern Counties Depot at Genefa, near to the Combined Training School at Kabrit. It included men from other northern regiments as well as the D.L.I. The C.O. was Colonel Ralston who was from a Highland regiment and the Adjutant, Major Cameron was an officer of the Queen's Own Cameron Highlanders. [2]
Training
In due course 18 D.L.I. left Genefa and travelled by rail to Gaza. There they were issued with Combined Operations badges and they began training in their new role as a Beach Brick.
LAC Trevor Barlow was one of the airmen who joined the R.A.F. Component of No. 35 Beach Brick. He had left the U.K. in early 1943 and travelled down to South Africa and up the east coast to Egypt where he was posted to '35 Brick'. In his diary he noted a journey from Cairo to Gaza across the Sinai Desert in May 1943.
During May, No. 35 Beach Brick trained at Gaza, much of it taking place on the beaches and often at night. Late in May or early in June 1943, No. 35 Beach Brick left Gaza by rail to go back to Egypt. Arriving just outside Alexandria, No. 35 Beach Brick set up camp at the side of the road not far from the salt flats, where the camps of many different units stretched for miles. Some leave was allowed in Alexandria but it was not long before the Beach Brick personnel boarded ship in Alexandria harbour.
On 1st July 1943, just after Nos. 31, 32, 33 and 34 Beach Bricks embarked for the invasion of Sicily (Operation "HUSKY"), Trevor Barlow records that he left Alexandria by boat, "destination unknown". Following the coast past Tripoli and landing at Sousse (Tunisia) on July 10th he travelled by train to Bougie in Algeria.
After two weeks at Bougie, No. 35 Beach Brick travelled by road back into Tunisia, to a camp outside Bizerta. Here there was training in vehicle waterproofing and a practice landing from L.C.I.s. No. 35 Beach Brick were working with 46th Division and were training to take part in the assault landings at Salerno, in Italy (Operation "AVALANCHE").
Trevor Barlow had a diving accident while training and was hospitalised in U.S. 95th General Hospital for several months with a severe neck injury. He missed the operation he had been training for and never rejoined No. 35 Beach Brick. Staying in North Africa to recover from his injury, he eventually joined another unit in Italy at the end of 1943. [3]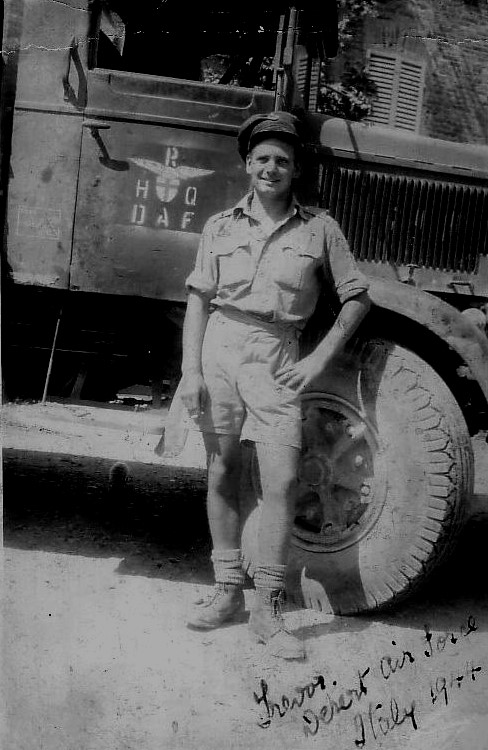 ---
Operation "AVALANCHE"
The main British assault force for Operation "AVALANCHE" was assembled in the Tunis area. No. 35 Beach Brick embarked at Bizerta on U.S. manned L.S.T.s and sailed from there to Salerno Bay. The landings began on 9th September and No. 35 Beach Brick, operating on 'Uncle' Beach, was one of three beach groups serving the British landing beaches.
No. 35 Beach Brick "had great difficulty in organising its beach area. Although the shingle and sand beach was good, and the exits satisfactory, the routes inland were narrow and flanked by ditches. Moreover enclosures, patches of wood, swampy ground, and irrigation channels abounded. The build up on the beaches went briskly, but to clear them was another matter, and the congestion became acute." [4]
Five immediate awards of the Military Cross and seven immediate awards of the Military Medal were made to personnel of No. 35 Beach Brick.[5] One of the recipients of the Military Cross was the second in command of the R.A.F. Component, Flight Lieutenant Dobbin.
Reproduced below is the text of a message from the commander of 46th Division (10 Corps) thanking the personnel of No. 35 Beach Brick for their work in the Salerno beach-head.
---
C-O-P-Y
TO ALL RANKS OF 35 BEACH BRICK
You have now passed from my command, but on your doing so I should like to express to you the gratitude of 46 Div for your work. The courage, endurance and skill which you have displayed has contributed in no small measure to the success of a difficult and perilous venture. Overcoming all difficulties and conteming all dangers you have punctually discharged all craft and have established the Beach Maintenance Area.
We have all been members of the same team and with your help have won quite the most important "away" match of the season.
Thank you all and good luck to you all.
Signed. J.L.I. Hawksworth.
Maj-Gen.
19 Sept. 43. Comd 46 Div.
(N.B. the word 'contemning' was mistyped in the original.)
---
When the port of Salerno opened, 18th D.L.I moved in to work the port. The battalion returned to Egypt at the end of 1943 and then went back to the U.K. From there they were to land in Normandy as the infantry battalion in 36 Beach Brick – the reserve beach group for the GOLD assault area.
The R.A.F. Component of No. 35 Beach Brick was disbanded in November 1943. Some personnel joined a new R.A.F. beach unit that was being formed in the Mediterranean theatre (ultimately named No. 5 R.A.F. Beach Unit), while the others were posted to different units.
Squadron Leader Murphy and Flight Lieutenant Dobbin returned to the U.K. Murphy was appointed C.O. of No. 4 R.A.F. Beach Unit with the rank of Wing Commander. Dobbin also joined No. 4 R.A.F. Beach Unit but shortly after became C.O. of No. 101 R.A.F. Beach Flight of No. 1 R.A.F. Beach Squadron with the rank of Squadron Leader.
---
[1] Maund, L. E. H., Rear-Admiral "Assault From The Sea", 1949, p221
[2] The information about 18th D.L.I. mostly comes from the memoirs of Harry Allen, written and published by Harry Allen under the title "Rise and Shine" in 2003 and printed by Rts (UK) Ltd, Kirkby, Merseyside, L33 8XF
[3] Trevor Barlow convalesced at Sidi Ferruch in October 1943 and was finally able to cross to Italy towards the end of the year. Passing through Taranto and Bari and then on to Foggia, he eventually caught up with the "remains of 55 Squadron" (his new unit) on Christmas Eve 1943. Trevor remained in Italy until 1946.
Many thanks to Trevor Barlow's daughter, Sarah Thiele for contributing this information about her late father's connection with the R.A.F. Component of No. 35 Beach Brick.
[4] Molony, C. J. C. "The Mediterranean and Middle East Vol. 5, The Campaign in Sicily 1943 and the Campaign in Italy 3rd September 1943 to 31st March 1944", 1973, p280
[5] Maund, L. E. H., Rear-Admiral "Assault From The Sea", 1949, p226
---