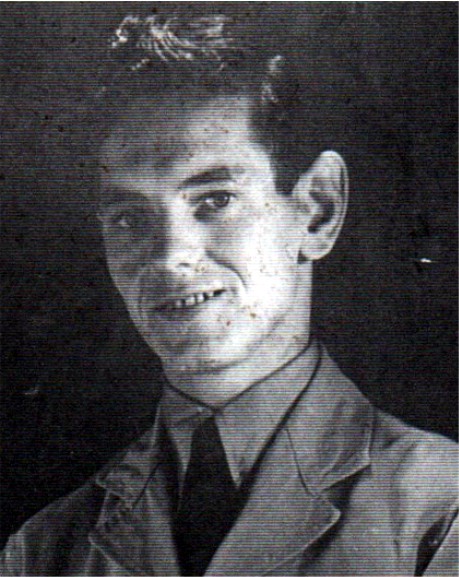 Edward McMahon joined the Royal Air Force on 1st March 1939 at the age of 18, mustering as an Aircrafthand, General Duties. His first two months were spent at No. 1 Depot, Uxbridge and then he spent three months at R.A.F. Station Finningly.
He joined No. 3 Supply and Transport Section at Henlow on 15th September 1939 when the Section was being formed. No. 3 Supply and Transport Section was part of No. 6 Air Stores Park and it left Henlow in October 1939 to go to France in support of the Advanced Air Striking Force.
The winter of 1939-1940 in France was particularly cold. Edward became sick or injured in December 1939. He was first admitted to No. 2 Medical Receiving Station (for Second Line units this was the equivalent of a Casualty Clearing Station) and was transferred to No. 4 Casualty Clearing Station the same day. Three weeks later, on 5th January 1940, he was evacuated to the Medical Sub Base No. 1 General Hospital located in Dieppe. He was discharged from hospital on 17th March 1940.
The Advanced Air Striking Force was deployed in the Rheims area. In the face of the German attack in May 1940 they had to withdraw further south into France, to the Troyes area, then to the area of Orléans–Le Mans and finally to Nantes, before, eventually being withdrawn to the U.K. This must have been a testing time. Edward did talk about the British Expeditionary Force and all the equipment they had to destroy before they were evacuated back to England but he did not mention his time in hospital.
Edward returned from France with No. 6 Air Stores Park, moving to R.A.F. Halton on 24th June 1940. He was posted to No. 1 Wing, Gloucester (on formation) on 4th Jul 1940 and went to the newly opened R.A.F. Innsworth, a non-flying R.A.F. station on the north side of the city of Gloucester. He qualified as an Aircraftman First Class with effect from 3rd October 1940.
Edward was posted to the first unit to be based at R.A.F. Innsworth. This was No 7 School of Technical Training, a unit that trained engine and airframe fitters and mechanics. He became a Leading Aircraftman (LAC) on 1st June 1941.
On 2nd March 1942 Edward had served for three years and he received a Good Conduct Badge. He spent a month away on attachment to No 8 Recruits Centre at Arbroath from 8th April 1942, returning to No. 7 School of Technical Training on 12th May 1942.
No 2 W.A.A.F. Depot was opened at Innsworth In December 1941 and from then on the Station became increasingly associated with the Women's Auxiliary Air Force. Eventually it was decided to reserve R.A.F. Innsworth almost exclusively for W.A.A.F. training. Edward was posted from No 7 School of Technical Training to R.A.F. Station Innsworth with effect from 13th November 1942, and on 12th December 1942 was posted to No. 30 W.A.A.F. Recruit Centre.
Thus Edward spent nearly three years based at R.A.F. Innsworth, at the training and recruit establishments there. He must have been dissatisfied with the way his R.A.F. service was going and so responded to a call for volunteers to serve in a special type of unit. Edward's experience with expeditionary logistics during the battle for France in 1940 would have been seen as valuable for this special type of unit, which also was concerned with expeditionary logistics, and Edward's application was successful.
Edward joined No. 68 R.A.F. Beach Unit (initially named No. 68 R.A.F. Embarkation Unit), at its formation in April 1943. Nos. 68 and 69 Beach Units were the first R.A.F. beach units in the U.K., created to form an R.A.F. element in the beach organisation for Combined Operations. They trained in Scotland and were soon to depart for the invasion of Sicily with the 1st Canadian Division. They sailed from the Clyde on 19th June 1943 and landed on D-Day in Sicily on 10th July 1943.
After Sicily the unit went to North Africa to prepare for the assault landings at Salerno. D-Day for the Salerno landings was 9th September 1943. Edward's son Liam remembers his father telling him he was issued with a tommy gun and one day on a beach somewhere when he was cleaning it a German plane strafed the beach and he said he had to get off the beach rather quickly to avoid being shot! His best friend at that time was "Jock" McGowan. This is probably the LAC McGowan who is mentioned in the Operations Record Book of No. 68 R.A.F. Beach Unit in an entry for 10th September 1943 (Referenced here in the paragraph about D+1).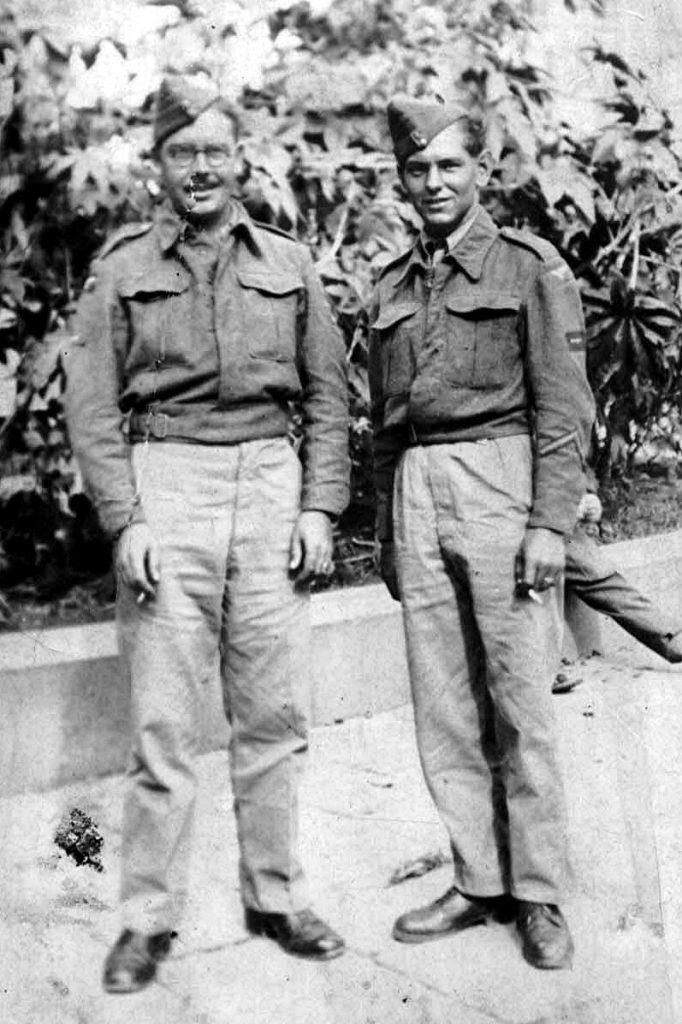 After the Salerno operation, Edward did not return to the U.K. with Nos. 68 and 69 Beach Units. Instead he transferred to No. 61 R.A.F. Embarkation Unit in Naples. That would have been in October or November 1943. He remustered as an Embarkation Assistant with effect from 11th June 1944 and served the rest of his time with No. 61 R.A.F. Embarkation Unit in Naples. Edward was promoted Acting Corporal on 1st November 1945 and finally became a Temporary Corporal from 1st December 1945.
The most important event during Edward's time in Naples was his marriage to local girl, Giannina Mangiacapra. Their wedding, on 6th June 1945, was attended by comrades from No. 61 Embarkation Unit. Giannina's wedding dress was made from parachute silk which Edward had picked up from somewhere!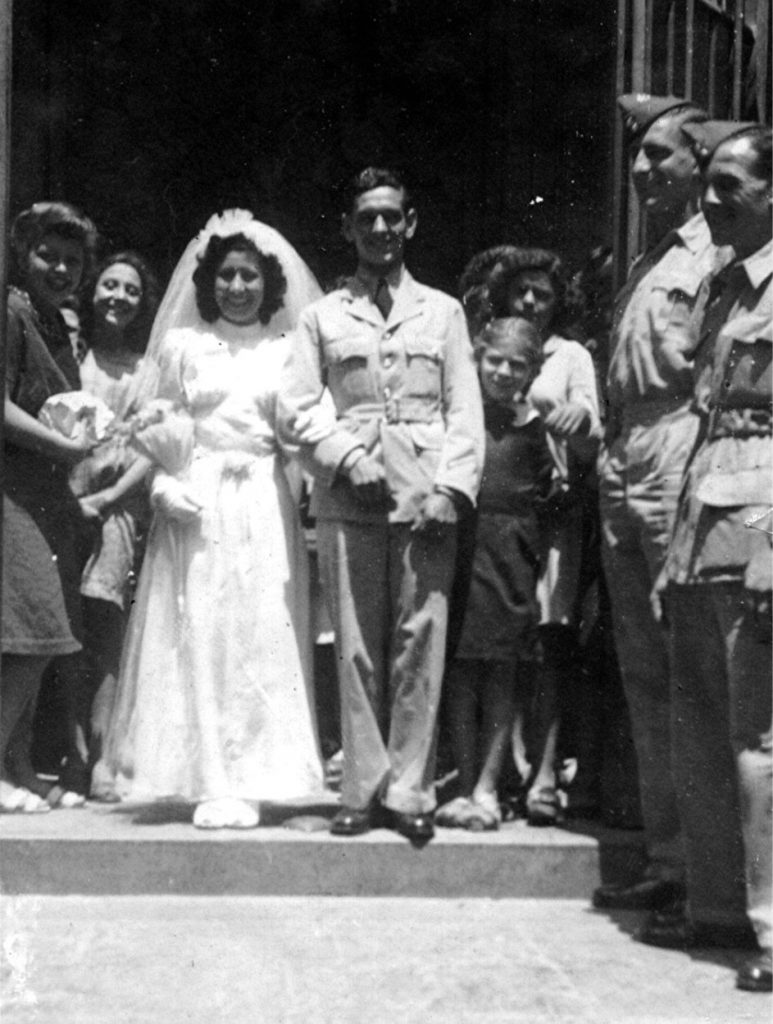 Edward's service ended on 11th March 1946 and his effective date of release from the R.A.F. was 27th June 1946. He had spent seven years in the R.A.F. and had served overseas for 32 months and 3 days.
Back home in Belfast after the war, Edward joined the G.P.O. (as it was then), and apparently so did Jock McGowan over in Scotland because many years later Edward met up by chance with Jock at a Post Office function. No doubt they had a lot to talk about over a few drinks!
---
Many thanks to Liam McMahon who shared information about his father, including the photographs, and who, with his sisters and brother, gave permission for it to be published on this website.
Additional information about R.A.F. Innsworth and the units based there comes from Wikepedia
---